Free WordPress Themes Designed For Accessibility
Every web owner wants to increase traffic to their website. But that's only likely to happen if the website is accessible to everyone. 
And of course, by 'everyone', we definitely include users with disabilities who rely on assistive technologies to browse the web. 
If your website is built on WordPress (a good guess, seeing that one-third of the world's websites are), then accessibility-ready themes are a great way to get started. 
There are a lot of paid WordPress themes to make your website accessible. Luckily, there are a handful of free ones too that work just as well! (or almost)
Below, I've listed five of these free WordPress themes that are accessibility-ready: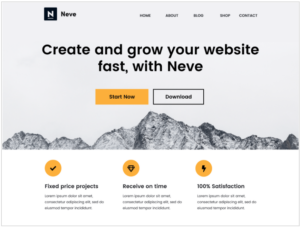 Version: 3.2.5
Last updated: May 12, 2022
Active Installations: 300,000+
WordPress Version: 5.4 or higher
PHP Version: 7.0 or higher
Neve is a fast, easy-to-customize, multi-purpose theme. It loads in seconds and adapts to any viewing device. 
Neve is also quite expandable with a highly optimized SEO code which could help boost your website's ranking in Google search results. 
The core theme is free and perfectly integrates with Gutenberg and popular page builders such as Elementor, Brizy, Beaver Builder, Visual Composer, SiteOrigin, and Divi. 
The theme is suitable for blogs, small businesses, startups, agencies, firms, e-commerce stores (like WooCommerce), and personal portfolios.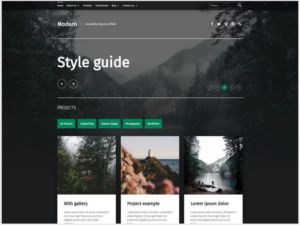 Version: 2.5.2
Last updated: March 26, 2022
Active Installations: 3,000+
WordPress Version: 4.8 or higher
PHP Version: 5.6 or higher
Modern theme is a fully accessible blog and portfolio WordPress theme. It is optimized for search engines, has a responsive design, and is compatible with mobile devices and high-resolution displays.
The theme has secure, speed-optimized, translation-ready code with support for multiple languages (including RTL languages) and a featured posts slideshow on the front page.
It also focuses on readability, making your web content easily accessible to your visitors. Modern is compatible with most page builder plugins, such as the Jetpack plugin.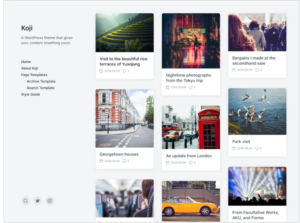 Version: 2.0.10
Last updated: May 27, 2022
Active Installations: 2,000+
PHP Version: 5.4 or higher
Koji is a clean and lightweight theme for bloggers. It features a masonry grid on the archive pages, widget areas in the sidebar and footer, as well as a beautiful and minimalistic design. 
It also supports Gutenberg Editor support and infinite scroll loading. Other features include meta post settings, custom logo support, and an accessible search overlay. 
Koji also seamlessly integrates with many WordPress plugins to allow you to take full advantage of supported features like Testimonials and social sharing.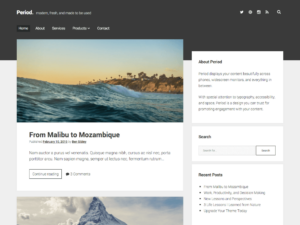 Version: 1.700
Last updated: September 14, 2021
Active Installations: 1,000+
PHP Version: 5.4 or higher
Period is a free WordPress theme designed for blogs, small businesses, and educational organizations.
The menu is fully keyboard accessible, and text contrast levels are kept considerably beyond the WCAG-recommended ratio of 4.5:1.
Period offers a few essential customization options like a custom logo uploader, a search bar, social profile icons, and two different layouts (left and right sidebar). 
While Period is available as a free download, you can get more customization tools in Period Pro (premium version).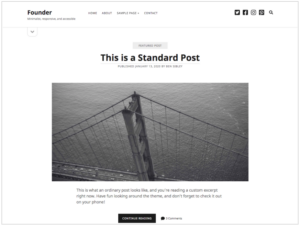 Version: 1.52
Last updated: December 23, 2020
Active Installations: 1,000+
PHP Version: 5.4 or higher
Founder is a simple and easy-to-install theme perfect for websites that feature an online portfolio or blog. This makes it ideal for bloggers, marketers, start-ups, entrepreneurs, and business experts. 
Its minimalist design gives your website a stylish and modern look that is accessibility-ready. It also offers a few handy tools to help you customize your site to your liking. 
Founder also integrates smoothly with popular plugins such as Easy Digital Downloads, MailChimp, and Jetpack. 
Founder is available for free download. It also has a premium upgrade (Founder Pro) for extra features, such as custom fonts and featured images, sliders, and videos.
Conclusion
Usability, readability, interactivity, and content accessibility are just a few of the advantages of using an accessible WordPress theme. 
Still, most of the free themes listed above are more suitable for simple websites like personal blogs. If you own a business website, you'd be better off with a solution like EquallyAI. 
Make your website 100% accessible and provide a more personalized experience for your visitors. How? Find out with the free 14-day trial. 
Disclaimer: Accessi.org is not affiliated with any of the WordPress themes or developers mentioned in this article. This article is solely for informational and educational purposes.